Cookbook Launch & Signing
November 9 @ 2:00 pm

-

5:00 pm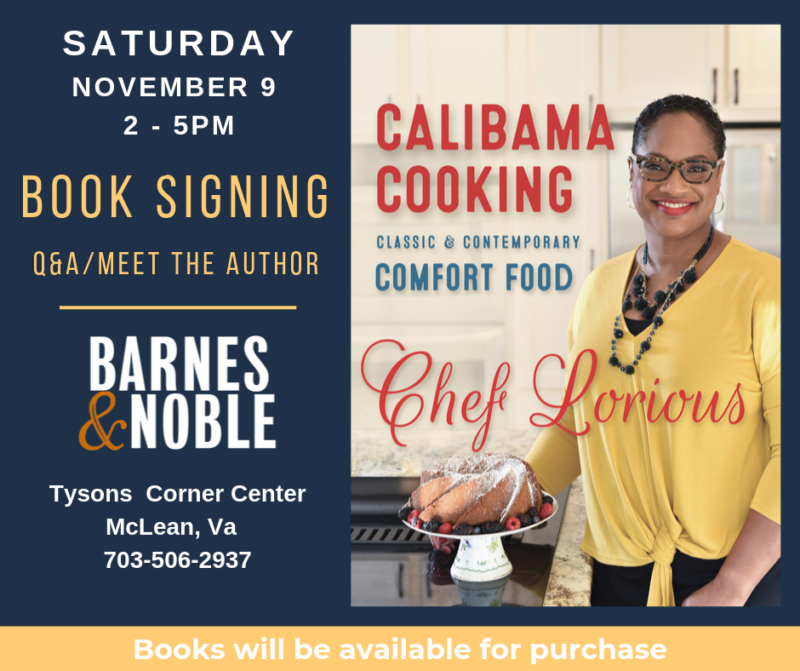 Join me Saturday, November 9th at 2 pm for the launch and first signing of my all-new cookbook "Calibama Cooking: Classic & Contemporary Comfort Food". The event will be held at Barnes & Noble in Tysons Corner Mall in McLean, Virginia. You can preorder your book HERE or purchase it at the event. In addition to signing books, I'll be taking photos with you and hosting a Q&A/Discussion.
This is a FREE event. Registration is appreciated for planning purposes. Register HERE at Eventbrite.
About the Book
What happens when you take a California girl, born and raised, with family roots from the heart of Dixie? You get some seriously delicious food, and a collection of comfort food recipes just like grandma used to make. You also get new and innovative twists on the classics we all love. Put it all together, and you've got Calibama Cooking!
Inside you'll find…
Full-color photos for every recipe
Step-by-step, easy to follow instructions
Cooking tips, short cuts and serving suggestions
Feel-good stories that make you want to laugh and eat!