Let's start with the obvious. French toast is a fancy way to have dessert for breakfast. You take sweet bread (Challah or brioche, typically), you dip it into a sweet eggy custard (with sugar, vanilla, cinnamon, nutmeg) and brown it on both sides in butter over a a medium-high skillet. Then you sprinkle powdered sugar on it, and load it with whipped cream or syrup. And we call it "breakfast"….or if we're feeling particularly upscale, we call it "brunch".
So the way I see it, if we're going to have dessert for breakfast (or brunch), let's not go half way. Let's just finish this off the right way and add fresh fruit. But not any fresh fruit, let's caramelize something. Hmmmm, what to caramelize? I've got it: Bananas!!! Now we're talking. It's dessert for breakfast, only sweeter.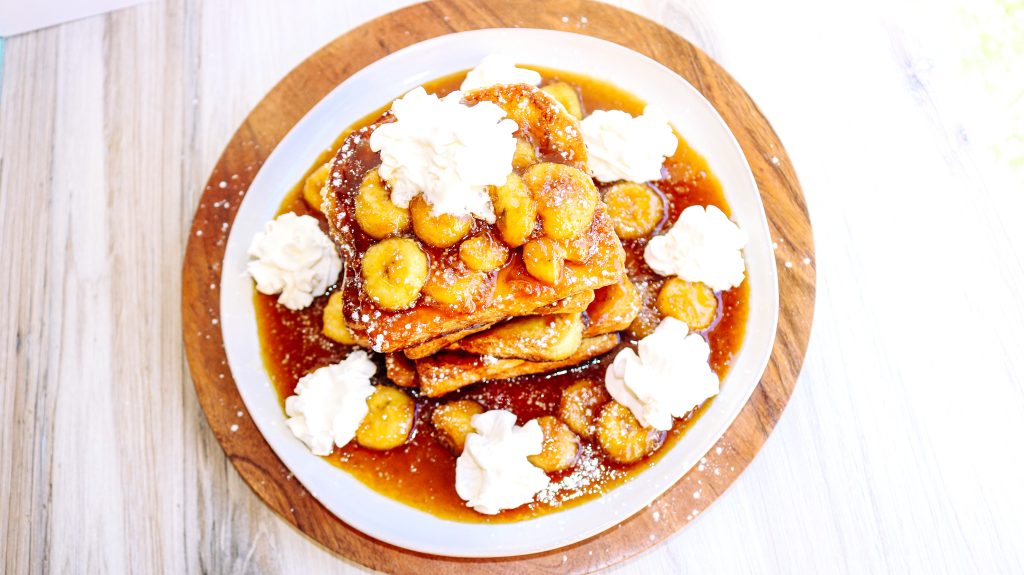 A few reminders though…
1. If you're using bread slices that are not extra thick, don't soak it in the custard for too long. If you do, it will just get mushy and nobody wants that.
2. When you caramelize the bananas with the brown sugar and butter, be sure you fully incorporate the two ingredients before adding the bananas.
3. Don't slice the bananas too thin or they'll break apart in their sugar bath.
4. And finally, don't over cook the bananas. You just need them to be coated well in the brown sugar bath. Seriously, guys… leave the bananas in too long and the bananas will fall apart.
Ok.
That's all.
Go make it.
Eat it all.
Enjoy it.
You're welcome…enjoy it!
Ingredients
For the French toast…
1

loaf brioche bread

4

eggs

1

c

heavy whipping cream

1

t

cinnamon

optional
For the banana topping…
2

T

butter

½

c

brown sugar

1

t

cinnamon

2

bananas

sliced
Instructions
For the French toast…
Heat a skillet over medium heat, melt 1 tbsp of butter and 1 tbsp vegetable oil

Combine the eggs, heavy whipping cream and cinnamon (if using) in a shallow dish.

Dip the bread slices into the custard on each side.

Cook in the skillet until golden brown.

Add additional butter and vegetable oil as needed.
For the banana topping…
Heat butter and brown sugar over medium heat until sugar is dissolved.

Add sliced bananas and stir to coat the bananas in the sugar mixture.
Top the French toast with the caramelized bananas and eat yourself silly!
Video