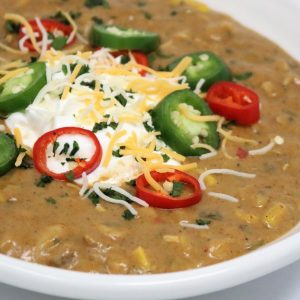 Spicy Southwestern Chicken Chili
This chili is so good, I don't even know where to begin. You make it as spicy or mild as you like. In my house, this chili is always very very spicy! Adjustments can be made with more or less half-n-half, and also by adjusting the amount of cayenne pepper you use. However you do it, enjoy it!
Ingredients
1/2

cup

red onions, chopped

3

cloves

garlic, minced

1

jalapeno, chopped

1

red chili pepper, chopped

1/2

cup

flour

1/2

cup

vegetable oil + extra to saute vegetables

1/3

cup

cumin

1/3

cup

chili powder

1

tsp

salt

1/2

Tbsp

cayenne pepper

1

whole chicken, cooked

(recommend full rotisserie chicken from your local grocery store)

5

cups

chicken broth

2

15-oz cans

of white beans

2/3

cup

corn

2

Tbsp

cilantro

1

cup

half-n-half
Instructions
In a large 8-quart stockpot, over medium-high heat 2 – 3 tablespoons of vegetable oil. When oil is heated, cook chopped onions, peppers, and garlic. Cook until the garlic becomes fragrant and onions and transparent.

Turn the heat down to medium, add the flour and ½ cup of vegetable oil to the mixture, stir well to allow the oil to absorb the flour. This will determine how thick and hearty your chili will be.

Add the chili powder, cumin, salt and cayenne. Stir well to combine.

Add the chopped chicken meat and stir well to incorporate all ingredients.

Slowly pour in chicken broth and stir well to combine.

Bring to a simmer and add the white beans, corn and cilantro.

Stir all ingredients together well, bring to a slight boil. Once the chili is boiling, reduce the heat to medium-low and allow it to simmer together for 30 – 45 minutes.

Before serving, add half-n-half and stir well to combine cream into chili.

Garnish with sour cream, cheese and thinly sliced jalapeno peppers.