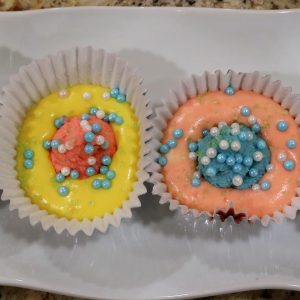 White Chocolate Mousse
So I had a brilliant idea this year for Easter!  I didn't feel like dyeing eggs, and my littles (my nickname for my 5 and 10 years old) told me they didn't want dyed eggs anyway.  Score---Bonus!!!  But I couldn't let Easter come and go without doing something fun for them.  That just wouldn't be right!  Then - the light bulb went off:  white chocolate mousse!  I didn't have a complete plan for this, but I had a working concept (that's what I say when I want to do something, but I know I haven't thought it through!).
I'd make white chocolate mousse, color it with food coloring and decorate them with sprinkles and stuff with the kids.  I decided to put them in cupcake cups so they are individually served.  Brilliant!  Then, like most ideas that I don't fully bake, it grew.  How about dyeing them FOUR colors!  Yes!!!  But wait....there's more....how about homemade whipped cream - YES!  BUT wait....there's more....let's dye the whipped cream too - YES!!  But wait...there's more...let's flavor some of the whipped cream, vanilla, and some of this whipped cream lemon!  OH YES!  But wait...there's more...instead of sprinkles, let's decorate with Pearlized sugar for an even more elegant look--YES! YES! YES!
So in the end, they came out beautifully, but I could have dyed the eggs for the amount of effort I ended up going through!  LOL!!  Next year, I'll get some Easter ceramics and make them even cuter....or maybe I'll just dye eggs!!
Oh well, the littles were happy and so was their mommy (and daddy, and big brother and grandma!!).
Happy Resurrection!
Ingredients
8

ozs

white chocolate, melted

4

Tbsp

butter, melted

4

egg yolks and whites, separated

1/2

tsp

cream of tarter

4

Tbsp

white sugar

1/2

cup

heavy whipping cream
Instructions
Melt chocolate and butter. Set aside.

Whisk in egg yolks. Combine well.

In a stand mixer, combine the egg whites and the cream of tarter. Whip on medium until soft peaks begin to form.

Slowly add white sugar, whip on high until stiff peaks form. (Be sure the sugar is dissolved.)

Fold stiffened egg whites into the chocolate mixture 1/3 at a time. Fold gently, do not stir (or you will collapse the air from the egg whites). Fold/mix until mostly combined.

Whisk heavy whipping cream until foamy.

Pour foamy whipping cream into mixture. Fold together and combine well.

Place in cupcake holder and set in refrigerator for at least 3 hours. They will not get firm, but they will set.

Enjoy!
Notes
*Recipe adapted from Kitchen Conundrums with Thomas Joseph.