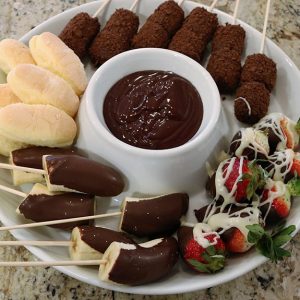 Valentine's Day Fun Tray
Happy Valentine's Day!!
I decided to have a surprise Valentine's Day party with my kiddos after school.  I didn't want to make a big deal out of the whole thing, but I did want to have some special time with my babies.  So I came up with a simple way to make the day special.  Here's what I used...
Marshmallows, bananas, strawberries, lady fingers.  Melted semi-sweet, dark and white chocolates.  Crushed chocolate Teddy Grahams.  Skewers.  Dark chocolate ganache.  Whipped cream.  Oh yeah....and for ME, some potato chips!  LOL
I put the marshmallows and bananas on skewers.  Dipped them in chocolate.  Rolled them in the crushed chocolate cookies.
Dipped the strawberries, etc..
Make it fun and make it yummy!  The kids loved it and I'm happy to share the concept with you.  Don't overthink things...keep them simple!
Happy Valentine's Day - enjoy your day with the ones you love.