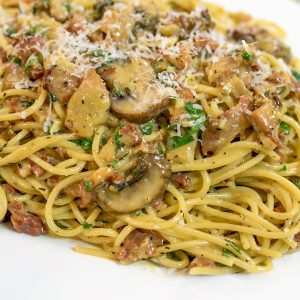 Four-Bacon Pasta Carbonara
Nothing says "I love you" like carbs.  At least that's my opinion!  And there's nothing like a classic carbonara to make you feel warm inside and just plain 'ol content.  Classic Pasta Carbonara is made with pancetta.  Pancetta is Italian-style bacon that is not smoked like American-style bacon.  It is delicious and a wonderful accompaniment to pasta dishes and various appetizers.  But y'all know me!!  When Carbonara meets Calibama, you get FOUR types of bacon.  I loaded this dish up with thick-cut bacon, pepper bacon, prosciutto and, of course, pancetta.  The result is better than words can describe.  I also added a lot of herbs and some sauteed mushrooms.  The result was unbelievable and I have a new favorite dish.  Hope you'll enjoy it, and make this dish your own with your favorite bacon!!
Ingredients
1

lb

spaghetti

1

cup

reserved pasta water

4

slices

pepper bacon

4

slices

thick cut bacon

8

ozs

prosciutto, cut up

8

ozs

pancetta, cooked in cubes

1

cup

baby bella mushrooms, sliced

2

shallots, diced

4

cloves

garlic, chopped

2

Tbsp

freshly ground pepper

1

Tbsp

chopped rosemary

1

tsp

thyme leaves

1

tsp

chopped basil

1

bunch

fresh parsley

5

eggs

1 1/4

cup

grated Pecorino Romano cheese

grated Parmesan cheese for the top
Instructions
Cook spaghetti in salted boiling water. Reserve 1 cup of pasta water.

Over medium-high heat cook all bacon.

When bacon is half done, add mushrooms, shallots and garlic.

Add rosemary, thyme, basil and 1 Tbsp of black pepper. Cook until fragrant and mushrooms begin to turn light golden brown. Remove from heat.

In a separate bowl, combine eggs, grated cheese and remaining Tbsp of black pepper. Use a fork or whisk to combine well.

Place cooked pasta directly in the pan with the cooked bacon mixture. Be sure the pan is not on the heat.

Add 1/2 cup of reserved pasta water.

Slowly pour in the egg, cheese and pepper blend, stirring constantly so the eggs do not scramble.

Add fresh parsley and continue stirring.

Stir until the cheese and egg mixture has incorporated the pasta water and forms a silky smooth sauce. Add additional pasta water if you want a looser sauce.

Top with freshly grated Parmesan cheese.
Video