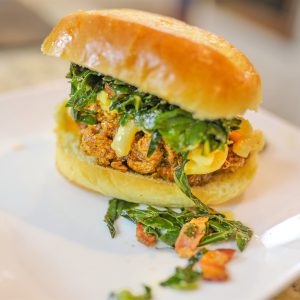 Hennessy Glazed Soul Food Sliders
Where oh where do I begin with this post!  First of all, I got the inspiration for this dish after the passing of Aretha Franklin, the Queen of Soul.  I got to thinking about soul music and my favorite Aretha Franklin songs.  I was unable to name just one (I mean really, who has just one Aretha Franklin favorite), but I was able to land on these:  <em>R-E-S-P-E-C-T, Say A Little Prayer, Freeway of Love, Dr. Feelgood, and Natural Woman</em>.  This list is not complete, because even as I type, more are coming to mind.  But at the top of my Aretha list is <em>"Rock Steady"</em>.  Honey, something about the groove of that song gets me and I just can't help myself!  <em>Rock Steady</em> is straight-up soul, funky music.  So in order to properly memorialize the Queen of Soul, I decided to create the ultimate soul food dish.
So I got to thinking, how would I best express soul music in soul food.  The first thing I thought about was fried chicken!  Next, my mind said "mac &amp; cheese girl!".  Then my juices got to flowing and collard greens floated across my horizon!  So at this point, my hips were moving from left to right (just like Aretha said they should in <em>Rock Steady</em>).  But....that wasn't enough.  I needed one more thing to take this sammich over the top...one more thing to make this sandwich worthy of not just soul music, but worthy of Queen Aretha.  And then it hit me: HENNESSY!
Every [good] soul party has dark liquor, and every legit soul party has a bottle of Hennessy!!  So I created a butter and honey-based glaze flavored with Hennessy.  Not enough Hennessy to get anybody tipsy or make your uncles fight, but just enough to give you that "funky lowdown feeling" Aretha sang about.  When my husband tasted the sandwich, he said we should call it the "Backslider", because it is sinfully delicious!  Whatever you call it, just be sure you tag me on social media when you make it.
Ingredients
For the chicken...
8

Chicken thighs (boneless, skinless)

spicy seasoning

Use as much as you need to satisfy yourself and your crew!

2

cups

buttermilk

2

eggs

2

cups

all-purpose flour + 1 Tbsp seasoning per cup of flour

Neutral oil for frying
For the Honey Hennessy Glaze
1

cup

butter

1/2

cup

honey

1/2

cup

Hennessy
Instructions
For the fried chicken...
Heat oil in a large dutch oven/stockpot. Fill the stockpot half to 3/4 of the way full with neutral oil for frying. It is important to keep the oil temperature around 330 - 350 degrees for best frying results.

Season chicken with as much spicy seasoning as you need! The spicier the better (in my opinion)!

Whisk the eggs into the buttermilk, and set aside in a bowl.

In another bowl, mix flour and seasoning. If you need additional seasoning for the chicken, use 1 tbsp of spicy seasoning for each 1 cup of flour.

Coat the chicken in the buttermilk and egg mixture.

Then coat in the flour mixture.

REPEAT - buttermilk mixture, then flour mixture.

Place chicken in hot oil. Be sure the oil is hot before you start frying.

When chicken is done, remove and place in glaze. Fully coat both sides of the chicken, allowing the glaze to soak in.

Set chicken aside to rest. Then place in the glaze again, and fully coat both sides of the chicken, again, allowing the glaze to soak in.
For the honey Hennessy glaze...
Melt butter in a medium boiler. When the butter has melted, add Hennessy and honey.

Combine all and bring to a boil until the mixture boils down. Initially, the liquid will foam up, then it will calm down as the alcohol cooks down.
Build the slider...
Brush the bun with the glaze. Build the slider with chicken, mac & cheese, and collard greens!
Video
Notes
Cooks Note:  I recommend boneless, skinless chicken thighs.  Thighs are juice and full of flavor.  To compensate for the missing chicken skin (which usually gives the crunch we all love), I double coat the thighs to make them extra crispy and then double dip the cooked thighs into the glaze.