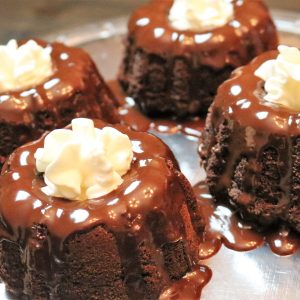 Red Wine Chocolate Cake
Rich.
Decadent.
Indulgent.
I can't begin to describe what this cake does to my palate. Red wine and chocolate are already an amazing combination....but make it into a cake, and O-M-G! This dessert is perfect for those sweet love days, like Valentine's Day, Anniversaries, etc.
You should definitely serve this with whipped cream or ice cream. Unless, of course, you can handle the richness of the chocolate and red wine combined. For me, the whipped cream balances it out perfectly. For my hubby, a scoop of vanilla ice cream is just right. However you enjoy it, just be sure you take a picture of it (and tag me!)
Ingredients
Red Wine Chocolate Cake
1

cup

unsalted butter

1

cup

white sugar

1

cup

brown sugar

2

eggs

2

tsp

vanilla

3/4

cup

Dutch unprocessed cocoa powder

1 1/2

cups

cake flour

1 1/4

cups

red wine

(best with Cabernet Sauvignon, Pinot Noir or Merlot)
Red Wine Chocolate Ganache
1

cup

semi-sweet chocolate chips

3

Tbsps

unsalted butter

1/4

cup

red wine

(you may need more red wine to get the consistency you desire to drizzle on your cake)
Instructions
Red Wine Chocolate Cake
Preheat oven to 350 degrees.

In a stand mixer, combine butter, white sugar and brown sugar until creamed.

Add the eggs, one at a time, be sure to fully incorporate each egg before adding the next.

Add the vanilla and cocoa and combine well.

Starting with the cake flour, add the cake flour and wine, alternating between the two 1/3 at a time. Start and end with flour.

Pour the cake batter into a well sprayed cake pan, filling the pan no more than 2/3 of the way.

Bake for 30 - 45 minutes, depending on the size of your pan(s). Cake is done when a toothpick comes out clean from the center. A bundt cake pan will take 45 - 60 minutes. Mini bundt pans (like the ones in the picture) take about 35 minutes. Two 9 inch rounds take about 35 - 40 minutes.

When cake is baked, remove from oven and place on a wire rack for 10 - 15 minutes before flipping the cake over. Allow the cake to cool before pouring the red wine chocolate ganache.
Red Wine Chocolate Ganache:
Melt the chocolate chips and butter in the microwave in 30 second intervals. Stir the chocolate and butter between intervals to help melt the chocolate.

Gradually pour in red wine, 2 - 3 tablespoons at a time, stirring until desired consistency is reached. Ganache should be thick enough to drizzle on cake.