Â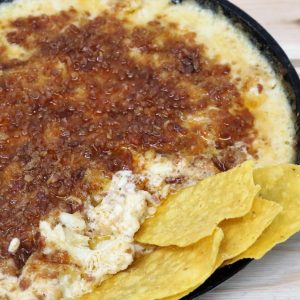 Super Seafood Dip
Dips are an amazing thing. You can do so much with a good dip, it's really hard to get your head around the whole thing. This is a party appetizer than can actually double as a meal (cuz it's so filling!). I use bay scallops and crab meat in this dip. Bay scallops are the smaller baby scallops (I don't know if they're really babies, I just call them that) compared to sea scallops, which are the larger scallops that are frequently enjoyed with steak. Both taste delightful to me, but the bay scallops work best in this recipe because of their small size. They can be easily picked up with a chip or cracker or whatever you choose to dip with. But please don't stop at scallops and crab meat. You can also add shrimp or even lobster to this recipe. Then top it all off with some finely chopped crispy bacon. Excuse me....I'm going to make some now.
Ingredients
1

cup

bay scallops, raw

1

cup

crab meat

(I like jumbo lump crab meat, but any will do)

1/2

cup

chopped shallots

4

cloves

chopped garlic

1

cup

mascarpone cheese

melted slightly in the microwave on 30 second blasts at significantly reduced power.

1 1/2

cups

Monterey Jack cheese, shredded

3

Tbsp

seafood seasoning

I use and recommend Old Bay

4

strips

bacon, cooked crispy and chopped

1/2

cup

panko bread crumbs

Olive Oil (for cooking veggies)
Instructions
Preheat oven to 375 degrees.

In a 10" cast iron skillet (or any oven safe skillet), heat enough olive oil to coat the bottom of the pan. Cook shallots in olive over medium heat until they start to soften, about 3 - 4 minutes.

Add the chopped garlic and continue cooking until the garlic and shallots become fragrant. Be careful not to burn the garlic.

Add the washed and rinsed bay scallops to the pan and continue cooking. Move the vegetables and the scallops around to incorporate them into each other.

Pour in the melted mascarpone and put in the shredded Monterey Jack cheese. Reserve 1/2 cup of Monterey Jack cheese for the topping. Stir all together until cheese is incorporated. Add in the Old Bay seasoning and combine well. Remove from heat.

Add crab meat and combine well.

Sprinkle the top of the tip with the remaining 1/2 cup of Monterey Jack cheese and the panko bread crumbs. Place skillet in oven for 15 minutes.

After 15 minutes, turn on the broiler in the oven and broil for approximately 5 - 7 minutes until the top of the dip is golden brown and bubbly.

Remove from the oven, sprinkle finely chopped bacon on top, and let the dip rest for 5 - 7 minutes before digging in with chips, crackers or your favorite veggie sticks.