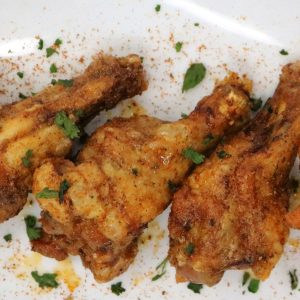 Old Bay Wings
Just in time for the big game, I've created an error-proof recipe for spicy, crispy chicken wings. I recently purchased an Air Fryer, and can I just say that it has changed my life?! Wings are one of the easiest things ever to prepare. However, this new found easiness and freedom did require a little adjusting on my part. First of all, cook time is actually a little quicker I think. I can cook about 1 - 1.5 lbs of chicken wings in 20-25 minutes. I usually fry or roast them. Neither method is terribly time consuming, but it can take up to 40 minutes for wings to cook thoroughly in the oven. Frying is pretty quick, but it's also quite messy. Not so with the air fryer. This is think is AMAZING!
So for these Old Bay Wings, I place the wings into the fryer with no seasoning. I know you're wondering am I sick....have I fallen and bumped my head.....am I experiencing some type of personal trauma. They answer to all of these questions is "absolutely not". Old Bay seasoning is very salty (to me) and I've found that if I let these wings cook in the fryer with nothing on them, baste them during the last 5 - 7 minutes with Old Bay butter and then toss them in Old Bay butter as soon as I remove them, they come out perfect---every time!
Crispy, spicy, juicy. That's the wing trifecta you know. You need all three for the perfect chicken wing. Hope you enjoy this recipe...hope you'll give it a try!
Ingredients
1 1/2

lbs

chicken party wings

1/2

cup

salt (if unsalted butter)

3

Tbsp

Old Bay seasoning

(more if you want it spicier)

Dash

Kosher salt
Instructions
Wash the chicken wings and pat them completely dry with a paper towel.

Heat the air fryer to 400 degrees. Place wings in the air fryer (with nothing on them). Cook initially for 15 minutes.

While the wings are cooking, melt the butter and mix in the Old Bay seasoning and a dash of salt.

Open air fryer and check wings. Lightly brush both sides of the wings with the Old Bay butter mixture. Continue cooking in the air fryer for an additional 7 - 10 minutes.

Check to see if the wings are done. To do so, stick a knife into the fattest part of one of the wings. If the juice runs clear, they are done. If the juice is pink, they are not done. Continue cooking for approximately 5 additional minutes and check again.

When the wings are completely done, remove them from the air fryer and place them directly into the Old Bay butter and toss to coat the wings. Remove them from the Old Bay butter, place them on a plate, and sprinkle with additional Old Bay.

Use the excess Old Bay butter as a dipping sauce if desired.