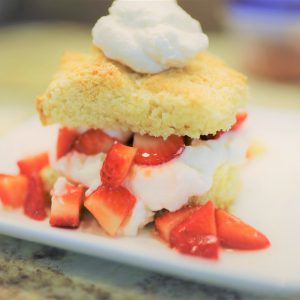 Strawberry Shortcake
We are officially into the summer season and everywhere I look there are strawberries!  Ripe strawberries are so sweet and delicious, they speak to me.  They say "cut us up and make a shortcake!"  (Please don't worry, I'm just kidding, I'm not off my rocker!)  Strawberry shortcake is super easy to make.  You literally cut them up and add sugar.  Done!  For a little more fun and flavor, I like to add some Prosecco or Champagne to the strawberries.  Let the strawberries sit in the sugar and Prosecco for a little bit while you make the sweet shortbread biscuits.  That way they can absorb all of those delightful flavors.  They will be perfect!    This recipe is more about how to make the sweet shortbread biscuit.  It follows the concepts of making a buttermilk biscuit, but with a few variations.  Enjoy your summer; enjoy the strawberries!
Ingredients
For the strawberries
2

cups

strawberries, cut into bite sized pieces

3

Tbsp

sugar (more or less to taste)

2

Tbsp

Prosecco or Champagne (optional)

LOTS

whipped cream
For the sweet shortbread biscuit
2

cups

self-rising flour

1/3

cup

sugar

1

Tbsp

baking powder

1

tsp

salt

1/2

cup

butter, cut up

1

egg

1

cup

heavy cream
Instructions
Combine flour, sugar, baking powder, salt, butter.

Add egg and cream.

Drop biscuits onto baking sheet.

Brush top with cream. Sprinkle sugar.

Bake at 400 for 20 – 25 mins.

Let cool before cutting.

Build a beautiful and sweet Strawberry Shortcake!
Video