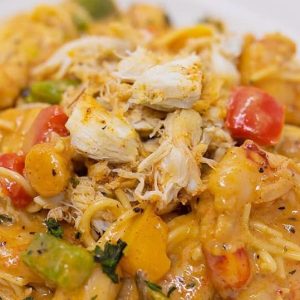 Cajun Seafood Pasta Carbonara
Here in Calibama, we create things. We think of the stuff we like and we conceive dishes to make ours taste buds smile. This is an example of that. What do I mean? It's pretty straight forward:
1. I love seafood - especially crab and shrimp
2. I love cajun spice - when it's done right, it's not just hot, it has amazing flavor
3. I love carbonara sauce - there's something about Pecorino Romano cheese and eggs that makes the silkiest, creamiest, richest sauce you'll ever enjoy. Then you add the black pepper, and O-M-G!
You put it all together and you've got Cajun Seafood Pasta Carbonara. You can make this dish extra spicy or just mildly spicy. However you make it, you are sure to enjoy it. Happy Calibama Cooking!
Ingredients
1

lb

angel hair pasta

1

cup

reserved pasta water

1

lb

shrimp, peeled and deveined

1

lb

bay scallops

4

baby bella mushrooms, chopped

1/2

cup

yellow bell pepper, chopped

1/2

cup

green bell pepper, chopped

1/2

cup

red bell pepper, chopped

1/2

cup

yellow onion, chopped

2

cups

sliced mushrooms

6

eggs

1 1/2

cups

Pecorino Roman, grated

3

tbsp

black pepper

4 - 5

tbsp

Cajun seasoning

Olive oil
Instructions
Cook pasta in salted boiling water. Reserve 1 cup of pasta water.

Coat the bottom of a skillet with olive oil. Over medium-high heat cook garlic, bell peppers, mushrooms and onions until soft.

Sprinkle 1 tablespoon of Cajun seasoning on vegetables and continue cooking.

In a separate bowl, combine shrimp and bay scallops. Coat the seafood with olive oil and 3 tablespoons of Cajun seasoning. Mix well.

Add seasoning shrimp and bay scallops in with softened vegetables. Continue cooking together for 7 - 9 minutes until the seafood is done. Shrimp and scallops will be opaque white when done.

In a separate pan on the stove, heat the crab meat with enough olive oil to keep it moist (about 2 tablespoons). Season with 1 tablespoon of Cajun seasoning.

In a separate bowl, combine eggs, grated cheese and 1 tablespoon of black pepper.

Use a fork or whisk to combine well.

Place cooked pasta directly in the pan with the cooked seafood and vegetable mixture. Be sure the pan is not on the heat.

Slowly pour in the egg, cheese and pepper blend, stirring constantly so the eggs do not scramble.

Add the reserved pasta water as needed to obtain the consistency you desire. More water makes the sauce looser.

Stir until the cheese and egg mixture has incorporated the pasta water and forms a silky smooth sauce.

Top with crab meat and freshly grated Parmesan cheese.
Video