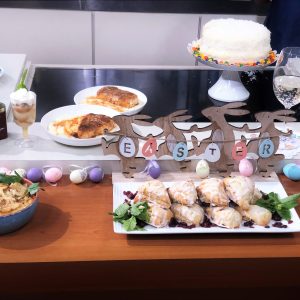 Potatoes Au Gratin
I love potatoes as much as the next girl, so any time there's a way to up the ante, I'm all about it. Years ago I found a fancy recipe for these potatoes au gratin from the incomparable B. Smith. Of course, being me, over time I gave this recipe my special touch and kiss of Calibama!
So instead of traditional potatoes and cheddar cheese, this recipe features a mixture of creamy gourmet cheeses... rich, melty, flavorful, cheeses. Don't feel constrained by the cheese I recommend in the recipe. By all means, do you, Boo!
I don't have a picture of the dish by itself, because.....well, I ate them before I took the pic. This is one of those foods that renders me helpless when it comes to self control. But alas, I have a picture of the potatoes in a beautiful Easter spread I prepared. (The potatoes are in the blue dish on the left). I promise, next time I made these, I'm going to update this post with a better pic. Pinky swear!
Ingredients
3

lbs.

potatoes

(I recommend red or russet potatoes)

2

cups

Parmesan cheese, shredded

2

cups

Gruyere, shredded

**see cheese note below**

1

cup

Havarti cheese, shredded

3

cloves

garlic, chopped

1/2

cup

butter, cut up

2

cups

heavy whipping cream
Instructions
Preheat oven to 425 degrees. Spray a 9 x 13 baking dish with cooking spray.

Peel the potatoes, and cut evenly in 1/8 - 1/4 inch thick slices. (I suggest using a mandolin to get the slices even.)

Mix all of the cheese and garlic together in a bowl and set aside to sprinkle on potatoes.

In the dish, place a layer of the sliced potatoes completely across the bottom. Generously sprinkle the cheese and garlic mixture on top of the potatoes; cover the potatoes.

Place another layer of potatoes on top of the cheese, and continue alternating potatoes and cheese, ending with potatoes on top. (Depending on the thickness of your potatoes you should have approximately 3 - 4 layers).

On top layer of potatoes, place cut up butter cubes around the top of the dish.

Pour the cream all over the top of the potatoes. Be sure every potato slice has cream on it. (The dish will not be "swimming" in the cream, but the cream will ooze into the cheese layers).

Sprinkle the top of the potatoes with paprika. Bake uncovered for approximately 45 - 55 minutes; until a tooth pick goes all the way through the potatoes to the bottom of the dish.

Remove from oven and allow to dish to stand for approximately 5 - 10 minutes. Enjoy!
Notes
Cheese Note:
There is no limit here with what cheeses work well in this recipe.  I do recommend purchasing a block of cheese and shredding it fresh.  Something about freshly grated cheese makes it melt so much better.  So smooth and rich.  Gruyere and Havarti are probably my favorite two cheeses on planet Earth, so of course that's what I recommend.  Whatever you choose, I strongly recommend not skipping the Parmesan.  The nutty, full bodied flavor of the Parmesan rounds of the flavor profile of this dish no matter what other chooses you use.  Drop me a line below and let me know what your favorite cheeses are.