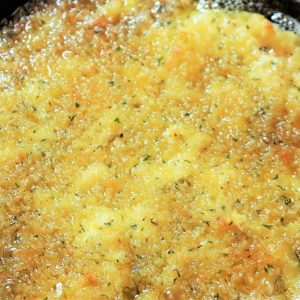 Truffle and 7 Cheese Mac & Cheese
Well, Family! I believe I have found The Answer to all of our problems. Are you ready for it? Here it comes......Truffle and 7 Cheese Mac & Cheese. As if Mac & Cheese by itself couldn't cure all that ails you, make it SEVEN cheese and truffle oil, well then the world is just a better place.
I don't feel the need to do a lot of talking about this. I feel like I just need to shut up and post the recipe because the picture alone is worth 1,000 words.
Happy Cooking and Enjoy.....
Ingredients
1

lb

cooked elbow macaroni noodles

1

Tbsp

butter

3

Tbsp

white truffle oil

1

tsp each

basil, oregano, parsley, thyme

1

medium

shallot, chopped

2

cloves garlic, chopped

2

Tbsp

flour

2

cups

heavy cream

salt and pepper

1/2

cup each

Gouda, white cheddar, Monterey jack, Parmesan, Fontina, Havarti, Gruyere cheeses

2

eggs

lightly beaten

1 - 2

cups

panko bread crumbs
Instructions
Preheat oven to 375 degrees.

Cook and drain macaroni noodles. Set aside in a separate bowl.

Heat butter and white truffle oil in a medium skillet over medium-high heat. Add shallot, garlic, and herbs. Cook until fragrant and the onions are translucent.

Add flour and stir to combine until the mixture has absorbed all of the flour.

Slowly pour in cold heavy cream and continue stirring until mixture begins to thicken.

Reduce heat to medium and add all cheeses. Continue stirring until cheeses melt. Taste the cheese sauce; add salt and pepper according to your tastes.

Pour cheese sauce into a bowl with drained, cooked noodles. Stir well to incorporate cheese and noodles. Taste to see if meets your approval! If not, adjust seasonings as necessary.

Add lightly beaten eggs and stir well to combine.

Top with panko bread crumbs and spray with cooking oil.

Pour into baking dish and bake in preheated oven for approximately 30 minutes, until top is golden brown.

Remove from oven and let stand for approx 5 - 7 minutes.

Eat your heart out!
Video