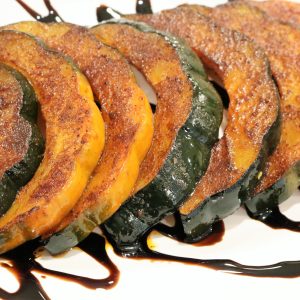 Chili Roasted Acorn Squash
Squash season continues!  Today, it's acorn squash.  Acorn squash is relatively sweet,, and actually reminds me of sweet potatoes.  There are a number of ways to prepare acorn squash, but so far this is high on my list of favorites.  It's roasted with chili powder and a touch of brown sugar.  The sweet and spicy combo has always been one I'm quite fond of.  But what sets this acorn squash recipe apart is the balsamic glaze that is drizzled over and around the finished acorn squash.  The tart flavor of the vinegar mixed with the sweetness of the glaze provides the perfect balance to the spiciness of the chili powder.  You gotta try it...and let me know how much you like it!
Ingredients
1

medium sized

acorn squash

(seeded, halved and cut into 1/2 inch slices)

2

Tbsp

brown sugar

1

Tbsp

chili powder

1/2

tsp

salt

1/2

tsp

cayenne pepper (optional)

Olive oil to coat the squash

Balsamic glaze (for drizzle)
Instructions
Preheat oven to 425 degrees.

Cut acorn squash in half, scoop out seeds.

Cut into half-moons approximately 1/2-inch-thick each, and place in a single layer on a baking sheet.

Brush squash with olive oil to coat both sides. This will help the spices stick.

Combine brown sugar, chili powder, salt and (optional) cayenne.

Season both sides with seasoning mix.

Roast in the oven for approximately 30 - 45 minutes, or until soft.

Remove from oven and lightly drizzle with balsamic glaze.

Serve and enjoy!