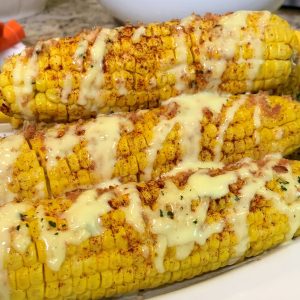 Corn on the Cob with Garlic Parmesan Aioli (oh...and Bacon Dust!)
Corn on the cob is a staple at summer time cookouts. It's kind of hard to make it interesting -- if we're being honest. Well never fear! Over here in Calibama-land, we've got something for corn on the cob to make it feel brand new! (Think Pharrell and Justin Timberlake singing their duet "Brand New"). That is exactly how off the charts delicious this corn is with this Garlic Parmesan Aioli. Then, to make it a party in your mouth, it's topped with magic bacon dust! Ok...I got a little carried away with the "magic" part, but come one! Bacon Dust?!?! It should be magical. 🙂 Seriously this dish is like a pop song that will make you wanna dance!
Ingredients
8

full corn cobs + 1 tbsp butter for each

(as many as you want! You'll have enough aioli)

1

egg

1

tsp

water

1

tbsp

grated Parmesan

1

tsp

garlic, minced

1/2

tsp

salt

1/2

cup

avocado oil

1

cup

olive oil

(more or less depending on how thick you want it)

4

slices

bacon, cooked crispy
Instructions
For the corn...
Wrap each corn cob individually in aluminum foil and top with 1 tbsp butter.

Wrap securely and bake in an oven at 450 degrees F for 30 - 40 minutes.
For the aioli...
In a small food processor, or blender, or small bowl with a whisk or hand immersion blender, beat the egg and water.

Beat in the grated Parmesan and minced garlic.

Slowly pour in the avocado oil, while still beating the egg, water, Parmesan and garlic.

Slowly add the olive oil, while continuing to beat the mixture. The oils will thicken the sauce.

Add the salt and taste. Add additional Parmesan, garlic and/or salt as desired to adjust to your tastes.
For the bacon dust...
Take the fully cooked crispy bacon, and grind it up -- preferably in a spice or coffee grinder to get the bacon chopped up super fine. You can also use a food processor to chop the bacon, but it won't be as fine as with a grinder. (It'll still taste good!!)
Puttin' it all together...
When the corn is done, remove it from the oven and carefully remove the aluminum foil from the hot corn.

Drizzle with aioli and sprinkle with bacon dust.

Eat your heart out!