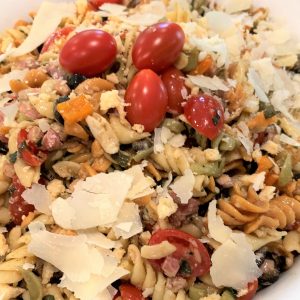 Glorious Lorious Pasta Salad
You know the phrase "everything but the kitchen sink"? That's how you make a good pasta salad. What makes my pasta salad Glorious (besides the fact that it rhymes with Lorious), is the combination of meats and stuff. That was a very vague description of what makes it Glorious. But I'll tell you the truth...all kidding aside....what makes my pasta salad Glorious is the same thing that will make your pasta salad Glorious. YOU! Let your imagination run wild and put in your favorite flavors in Italian cuisine. And I promise you, it will be absolutely Glorious [insert your name here] pasta salad.
Now I'm warning you. This recipe is sorta-kinda-correct. I can tell you what I put in it, but how much you put in is totally up to you!
Ingredients
1

lb

cooked pasta

(use whatever shape you like...I like rotelli)

1

orange bell pepper, chopped

1

bunch

fresh basil, chopped

3/4

cup

small black olives, sliced

1/2

cup

salami, diced

1/2

cup

prosciutto, diced

1/2

cup

pancetta, cubed

1/4

cup

garlic, chopped or minced

1

cup

cherry tomatoes, halved

2 - 3

tsp

salt (more or less to taste)

1/2

cup

balsamic vineger

3/4

cup

olive oil

Parmesan shavings (for garnish)
Instructions
Mix everything together in a large bowl, except for the croutons, crisps, balsamic vinegar, olive oil and Parmesan shavings.

Combine balsamic and olive oil in a jar and shake well to combine.

Pour over salad, approximately 1/3 cup at a time. Taste it as you go...add more salad dressing as needed to get it to the taste you like. Take your time adding the dressing. You can always add more, but you can't take it out.

Top with crushed croutons, crushed Parmesan crisps and Parmesan shavings.
Notes
NOTE:
These are estimates for the amount of ingredients to put in your Glorious pasta salad.  Use this recipe as a guide.  Add or take away as you see fit.