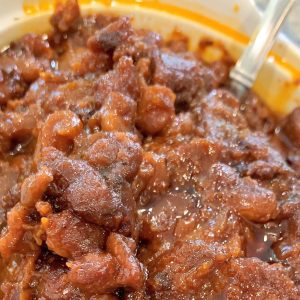 Triple "B" Baked Beans
What are the three "Bs"?
Bar-b-Que,
Bacon and
Bourbon!!
These are staples of the South, so why not combine them into a sinfully delicious and rich baked bean dish that's more than you bargained for. For me, I was happy with Bacon....but then I kept playing around and well... bacon, BBQ and bourbon! Enjoy!
Ingredients
5

cups

cooked navy beans

(see NOTE below)

1

lb

bacon, chopped

1

yellow onion, chopped

1/2

green bell pepper, chopped

1/4

Bar-B-Que Seasoning

3

cups

Bar-B-Que Sauce

1/3

cup

bourbon
Instructions
Cook beans according to the directions in the package. Set 5 cups of the cooked beans aside in a large mixing bowl when done cooking.

In a skillet over medium-high heat, cook chopped bacon until bacon is done. Do not cook bacon until crispy, just cook it until it's done and still soft.

When bacon is soft, add chopped onion and bell pepper. Cook all together until the onions and bell pepper are soft.

Remove from heat and pour the bacon and vegetable mixture into the bowl with the beans. Stir well to combine.

Add BBQ sauce and bourbon and stir to combine.
To Oven Bake....
Pour bean mixture into a 9 x 13 baking dish that has been sprayed with cooking spray. Cover tightly with aluminum foil, and bake at 250 degrees F for up to 4 hours. (I know.....it takes a while!)
Instant Pot...
Pour bean mixture into the Instant Pot and cook on high pressure for 50 minutes. Allow for natural release and enjoyment.
Notes
NOTE: Baked Beans can be tricky especially when you start with uncooked beans. They can take a long time to bake. The Instant Pot can help speed the time up, but you still may need to cook them for additional time to get the beans as soft as you'd ultimately like them. An easier alternative, you can purchase canned beans. They are already cooked and can cut down significantly on the cooking time. If you opt to start with canned beans, you can still add the bacon, onion, bell pepper, BBQ sauce and bourbon.  Just rinse the beans off so they don't have too much liquid. Bake covered on 350 for 45 minutes.