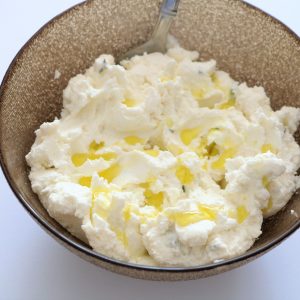 Easy Ricotta Cheese
Did you know that you can make Ricotta cheese at home, in under one hour, and it tastes waaaaaayyyyy better than the stuff you buy at the grocery store? Sounds too good to be true, huh? It's not. I promise.
I've discovered that you can make almost anything you like at home, from scratch. The good part about that is you don't get all of the added preservatives, and junk that you can't pronounce.
Another benefit is the ability to create your own flavor profiles. You can easily season this ricotta cheese by stirring in minced garlic, herbs, olive oil, squeeze of fresh lemon juice, etc. after it's done. Trust me, you will never go back to the store bought stuff after you try this easy, peasy recipe.
Ingredients
2

cups

whole milk

1

cup

heavy whipping cream

1

tsp

Balsamic glaze (for drizzle)

1/3

cup

white wine vinegar
Video