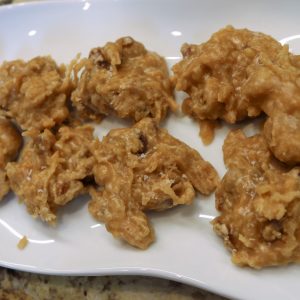 Calibama Pralines
There's nothing quite as good as a piece of homemade candy!  Enter Pralines.  Historically, pralines are a New Orleans, Louisiana specialty.  But y'all know, my folks are from down Mobile, Alabama...another Gulf town!  So that means, the 'Bama part of me has a claim on pralines.  And then when you add in the Cali part of me (born and raised, baby!), well, you know what's up!  So I started thinking of how to combine these two unbelievable regions into one delicious dessert.  Enter:  Calibama Pralines.  These are so sweet and so decadent, you will want to stop eating them, but you won't be able to.  I apologize right now for that!
So here's where I ended up:
Cali - Walnuts + Bama - Pecans + Coconut flakes - A Little Chef Lorious = Calibama Pralines!
Again, I'm sorry in advance for how many of these you will eat...in one sitting!
Ingredients
3/4

cup

brown sugar

1 1/2

cups

white sugar

6

Tbsp

butter, unsalted

1/2

cup

evaporated milk

3/4

cup

walnuts, chopped

3/4

cup

pecans, chopped

1/2

cup

coconut flakes

1

tsp

vanilla extract
Instructions
Combine all ingredients except extract in a pot and stir to combine over medium to medium-high heat.

Continue cooking until all melt and begin to boil.

When mixture reaches a steady boil, with a cloudy top, and is not "popping", set timer and cook for 3 minutes.

After 3 minutes, remove from heat, add extract and begin stirring until mixture begins to form together like a softball, and pull away from the pot. (approx 5 minutes)

Spoon immediately onto parchment paper; sprinkle with sea salt if desired.

Allow 10 - 15 minutes to set (at a minimum).

Proceed to consume unlimited calories!!!
Video