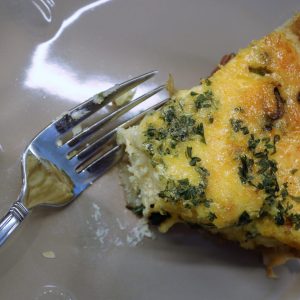 Calibama Quiche
This is one of those recipes that you stumble upon and it turns out you're really happy with the results.  It was birthed from a lovely Friday night dinner with my wonderful husband.  I didn't finish all of my steak, so of course I decided to take it home.  What I didn't tell my husband (at the time) was that I had a plan for this amazingly prepared medium rib eye steak from one of my favorite steak houses!  So the next morning, I got up, gathered my ingredients (which I already had), and voila!
Enjoy this Calibama-style, five ingredient quiche!
Ingredients
6

eggs

1 1/2

cups

heavy whipping cream

2

cups

shredded cheese

1/4

lb

bacon

1

onion

1

cup

spinach

1/2

cup

mushrooms

1/2

cup

leftover steak!

1

tsp

garlic, minced

1

Tbsp

Chef Lorious Signature Seasoned Pepper

1

pie crust
Instructions
Cook bacon until fat is rendered. Set aside bacon and fat.

Cook onions and garlic in bacon, until soft.

Add mushrooms and spinach. Cook down.

Add steak and bacon. Cook until all come together. Remove from heat.

In large bowl, combine eggs and cream. Whisk well.

Add cheeses.

Place meat and veggies in bottom of pie crust.

Pour egg, milk and cheese mixture over meat and veggies.

Bake at 375 degrees for 45 - 60 minutes (until fork comes out clean and center is set).
Video