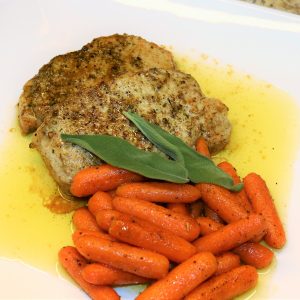 Sage Honey-Glazed Pork Chops
Pork:  The Other White Meat!
Remember that slogan from years ago?  Well, you know it's actually true.  Pork chops, especially boneless chops, really are white meat.  Glazed pork chops are beyond yummy in my opinion, but sometimes they can be a little too sweet.  Enter SAGE!  Enter BROWN BUTTER!  First of all, anyone who has ever made brown butter knows how much it can change the entire flavor profile of a dish...for the better.  So I got to thinking, hmmmmmmm......brown butter, honey.......hmmmmmmm.....that works......but it needs something else......hmmmmmmmmm.....SAGE!  Yes...that's the ticket, sage.  And so it was born:  Sage Honey-Glazed Pork Chops.
What makes this meal an even bigger bonus is that it cooks in less than 30 minutes.  BONUS!!!  I hope you'll make it; I made roasted carrots with it and drizzled the sage-honey brown butter sauce with the carrots too.  O-M-G!  My family couldn't get enough.  Hope you have the same positive experience with this dish.
Ingredients
12

boneless pork chops, cut standard thickness

Salt, Pepper, Herb Seasoning (to taste)

4

sticks

butter

1/4

cup

honey

2

Tbsp

ground sage

2

tsp

Salt
Instructions
Season the pork chops with salt, pepper and herb seasoning to taste.

Sear the chops on high heat in cooking oil (any cooking oil). Remove after approx 2 - 3 minutes per side.

Pour out excess oil from the skillet.

Melt butter in skillet over medium heat. Do NOT rush this process!

When butter starts to boil and separating, add ground sage and honey (also add fresh sage leaves if using).

Continue cooking over medium/medium-low heat until butter turns slightly brown. Do NOT overcook.

Place the pork chops back in the skillet they were cooked in.

Pour brown butter sauce in pan with chops. Be sure to brush some of the brown butter sauce on top of the pork chops.

Continue cooking over medium-low heat until pork chops are done.

If desired, place pork chops in oven on broil for approx 3 - 4 minutes.
Video