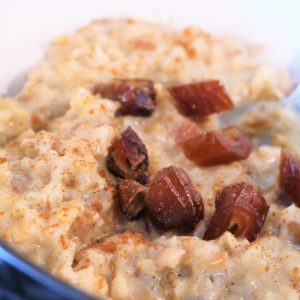 Quick and Healthy Breakfast: Oatmeal with Dates
As much I enjoy cooking everything from scratch, there are many days....ok, most days....I don't have time to make my family full scale pancakes from scratch with bacon, eggs, etc., you get the picture.  And on top of that, even those of us who are addicted to comfort food need some healthy foods in our lives.  Enter quick and easy oatmeal with dates.
The cool part about oatmeal, is that you can eat it at any time of day.  Maybe that's just me, but I like oatmeal for snacks (especially late night)....but I also like eating oatmeal for dinner (every now and then).  Here's another cool thing about oatmeal:  you can flavor it all kinds of ways.  This recipe uses dates, but you can use anything you like - blueberries, blackberries, bananas - it's up to you.  I like dates because they are rich in flavor and sweetness.  I add a little brown sugar, but truthfully, you don't need it.  The dates and the cinnamon are perfect!
Give this a try, make your own adjustments for whatever extras you like and drop a comment below to tell me how it turns out.
Ingredients
1/2

cup

rolled oats

1

cup

Milk or water

dash

Salt

Dates, chopped

1/2

Tbsp

brown sugar

1

tsp

cinnamon (to taste)
Instructions
Combine all except brown sugar and cinnamon.

Cook according oatmeal container. (I microwave it for about 5 minutes total. 2 1/2 minutes at first, then 1 minute intervals, stirring between each one until desired thickness is achieved.)

Add brown sugar and cinnamon. Stir well.

Enjoy!
Video