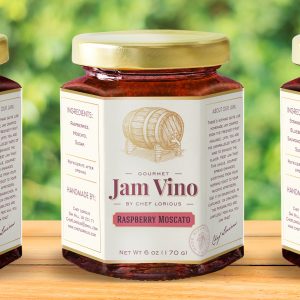 Jam Vino Is Here
Exciting news from the Love Lab!  Jam Vino, our exclusive hand crafted, wine-infused jams are now available!  These jams are uniquely designed by Chef Lorious and can be delivered to your doorstep.  Our jams feature fresh berries and luxurious wines to create delightful, rich and indulgent flavor profiles.  Jam Vino is an everyday treat, but it is also perfect for holidays, special occasions and gift giving.  There are three main flavors:
Blackberry Merlot:  Fresh blackberries infused with rich Merlot wine. Creates a complex flavor profile, that blends beautifully with various cheeses and creams, such as Creme Fraiche and Havarti. Also works well when reduced as a glaze for meats.
Raspberry Moscato:  Tart raspberries meet sweet Moscato. The result is a sweet refreshing blend that brings the best of both worlds. This decadent flavor profile pairs well with Brie and other mild cheeses. It is also delightful on morning scones, croissants or bagels.
Strueberry Blanc:  Strawberries and Blueberries cozy up to Sauvignon Blanc to introduce a luscious sweet jam that works any time of day. In addition to a great breakfast accompaniment, or an appetizer addition, Strueberry Blanc fills pastries to perfection, and glazes over ice cream with ease.
Click HERE to order!