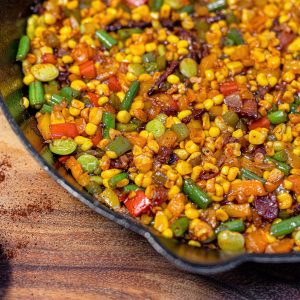 Calibama Succotash with Fireball Glaze
When I think of succotash I instantly hear Sylvester the Cat and Yosemite Sam exclaiming "suffering succotash"! Actually, there is quite a history to succotash that dates back to the Native Americans. It is made historically and primarily with corn and beans...Lima beans to be exact. As with most dishes, time has brought about a change and evolution to this traditionally simple dish.
The beauty of a dish like succotash is its versatility. Because you're starting with such a blank canvas of corn and beans, you can dress it up however you want. You can make it spicy, sweet, or sweet & spicy. The possibilities are truly endless.
When I was a little girl I don't remember my mom or my grandma making succotash--but I could have just refused to eat it! My spin involves some of my favorite things around: corn, bacon and Fireball whiskey! I make a glaze out of the Fireball adding an amazing dimension to the smoky flavor of the bacon and the fresh flavors of the vegetables. Honestly, it tastes even better than I imagined it would when I created this.
I have to say, the addition of the whiskey glaze takes this recipe over the top. If my mom and grandma made it like this, I may remember eating it!
Ingredients
For the succotash...
1

lb

bacon

2

cups

corn (fresh, frozen or canned)

1/2

cup

bacon, fried crisp and chopped

1/2

cup

chopped yellow bell pepper

1/2

cup

chopped green bell pepper

1/2

cup

chopped orange bell pepper

1

large chopped shallot

3

cloves

chopped garlic

2

tbsp

chili powder

1

tbsp

paprika

2

tsp

cayenne (optional)

salt & pepper to taste

1/4

cup

Fireball glaze (recipe follows)
For the Fireball glaze...
1

cup

Fireball whiskey

1/2

cup

brown sugar

1/3

cup

water + 2 tsp corn starch

2

tbsp

butter