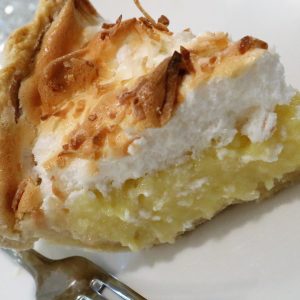 Home Style Coconut Cream Pie
If you know anything about old fashioned pies, you know about Lemon Meringue and Coconut Cream Pies.  Trends come and go, but the classics, the staples, the best things…they have longevity.  They stick around and stand the test of time.  Enter the Coconut Cream Pie.  By now everyone knows I'm a church girl, so I have had many Coconut Cream and Lemon Meringue pies in my life.  Childhood church bake sales centered around nothing but Lemon Meringue and Coconut Cream Pies.  That being said, I have had the time of my life this summer recreating these classics.  I enjoy switching up the classics, adding current and new influences, but with this, nah, Sweetie!  I kept it like it's supposed to be.  Tell me something….what's your favorite classic pie?  Respond below; I can't wait to hear from you.
Watch me make it: 
Ingredients
For the Coconut Pie Filling...
1

cup

sugar

1/3

cup

cornstarch

2 1/4

cups

whole milk

4

eggs, yolks and whites separated

1

tsp

vanilla extract

1

tsp

coconut extract

2

Tbsp

butter

1

cup

sweetened shredded coconut
For the Meringue Topping...
4

egg whites (from eggs used in pie custard)

1/2

tsp

cream of tarter

1/3

cup

sugar

1

tsp

vanilla extract

2 - 3

Tbsp

sweetened shredded coconut
Instructions
For the Coconut Custard...
Whisk together sugar and cornstarch in a medium sauce pot.

Slowly pour in milk and combine well.

Bring to a slight boil as mixture thickens.

Temper egg yolks so as not to have scrambled eggs!

Continue cooking and stirring for approximately 1 minute. Allow mixture to thicken.

Remove from heat and stir in vanilla flavor, coconut flavor and butter. Then stir in shredded coconut.

Pour into blind baked pie crust and top with meringue (see below) and additional sprinkled coconut.

Bake at 350 degrees for 15 - 20 minutes until coconut is toasted and meringue is light golden brown.
For the meringue....
Whisk egg whites and cream of tartar in a stand mixer.

When egg whites begin to foam, slowly add in sugar.

Whisk until stiff peaks form and add vanilla extract.

Spread meringue on top of pie custard. Sprinkle additional coconut flakes on top.